Star Wars The Force Unleashed 21GB
---
YouTube Video Proof of FULL Version ALL language/Voices/Subtitles/Sounds
in your Language. RELOADED is 5 Languages

Made a YouTube video of my in-game play. Maybe this will help
you decide if you wish to download this game.
**I put a lot of work into my screen shots, I dont approve you
to copy/paste my work without asking. I hope others that
enjoy my game topics will agree
***

Release Date: October 29, 2010
Year: 2010
Genre: Slasher / Arcade
Developer: LucasArts Entertainment Company, Aspyr

Language: English, French, Italian, Spanish, German
Your language has ALL voice/sub titles/language/sounds
6.262 GB ISO Image
5.970 GB when mounted
Game install is 9.510 GB
Game installed on Windows7/64bit

Game Info
In Star Wars: The Force Unleashed, the world was introduced to Darth Vader's
now fugitive apprentice, Starkiller - the unlikely hero who would ignite the
flames of rebellion in a galaxy so desperately in need of a champion. In the
sequel, Starkiller returns with over-the-top Force powers and embarks on a
journey to discover his own identity and to reunite with his one true love,
Juno Eclipse. In Star Wars: The Force Unleashed II, Starkiller is once again
the pawn of Darth Vader - but instead of training his protge as a ruthless
assassin, the dark lord is attempting to clone his former apprentice in an
attempt to create the Ultimate Sith warrior. The chase is on - Starkiller is
in pursuit of Juno and Darth Vader is hunting for Starkiller. With all-new
devastating Force powers and the ability to dual-wield lightsabers,
Starkiller cuts a swath through deadly new enemies across exciting worlds
from the Star Wars films - all in his desperate search for answers to his
past
Game Features
* Open the truth. The missing chapter in the history of the universe of
"Star Wars", illuminating part of the events between the third and
fourth episodes epic.
* Prepare for battle. The new system of selection of equipment and
improvement of weapons by replacing the focusing crystals in the
lightsaber will pick the best option.
* Unleash the fury. Virtuosity with two light swords and new ways
of the Force - the guarantee of victory over any opponent.
* Take the battle. Large-scale spectacular battles, in which Starkiller
will face not only the soldiers of the Empire, but also a giant alien beings.
Minimum System Requirement
OS: Windows XP (SP3) / Windows Vista (SP2) / Windows 7;
Processor: Intel Core 2 Duo 2.4 GHz / AMD Athlon X2 5200;
RAM: 2 GB;
Video Card: ATI Radeon HD 2600 / NVIDIA GeForce 8600 GT with 256 MB of memory;
11 gigabytes of free hard disk space;
Toothless install: 9.51 GB on Windows 7 64bit

MU 1GB links interchangable with File Serve 1GB
6.262 GB ISO Image. 1GB/7 Downloads
Language: English, French, Italian, Spanish, German
5% Winrar Recovery Record included in downloads


6.262 GB ISO Image. 1GB/7 Downloads
Language: English, French, Italian, Spanish, German
5% Winrar Recovery Record included in downloads



6.262 GB ISO Image.
Language: English/Spanish/French/German/Italian
5% Winrar Recovery Record included in downloads




How to install:
1-download files and run winrar "test archive"
2-extract ISO image to any folder
3-follow screen shot install below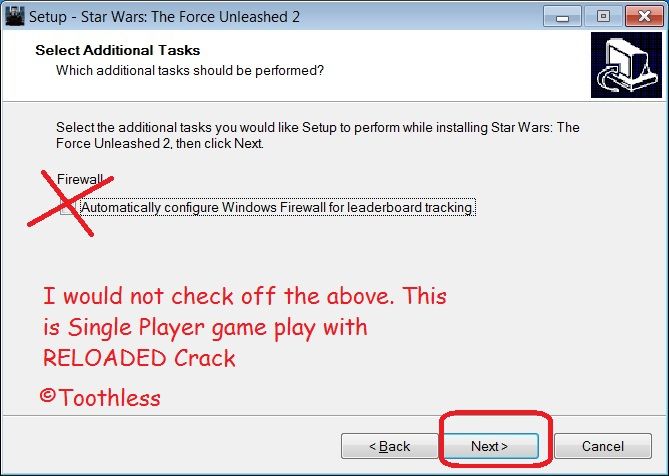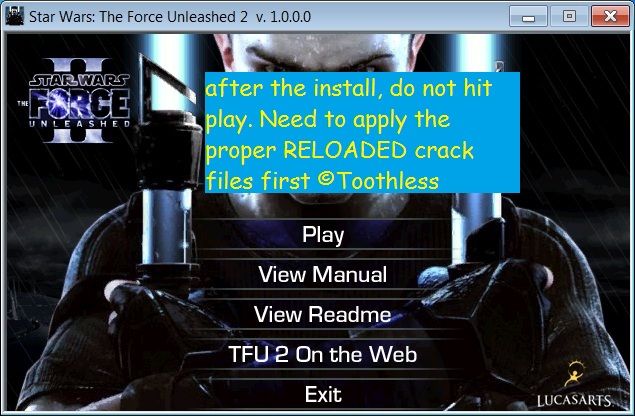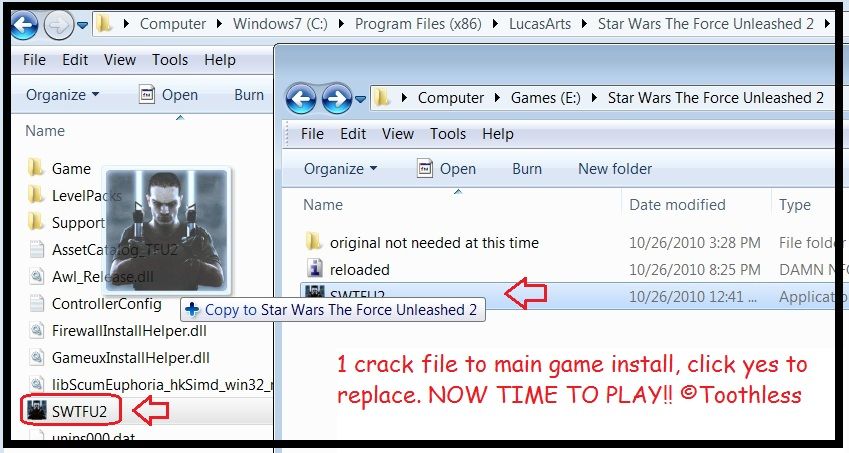 DirectX error, go to Microsoft and get the June 2010 Directx
After you extract the files to your hard drive, run the "setup.exe" file




Quote:

I get an error like "CRC failed in the encrypted file (wrong password ?)"!
RAR cannot distinguish a corrupt file and wrong password. If it were possible, it
would make encryption weaker. Therefore, such a message may indicate both a wrong
password and a corrupt file.

Most likely it is not a password problem, but a download that was corrupt.
Open Winrar, select "commands" drop down list , "test archived files" to find out
what file/files are giving you this error.
If you identified the problem link do one or more of the following:
1-"winrar repair" the specific file
2-RE-Download the problem link and that should fix your problem.
Toothless